Experience Quality in

Our Departments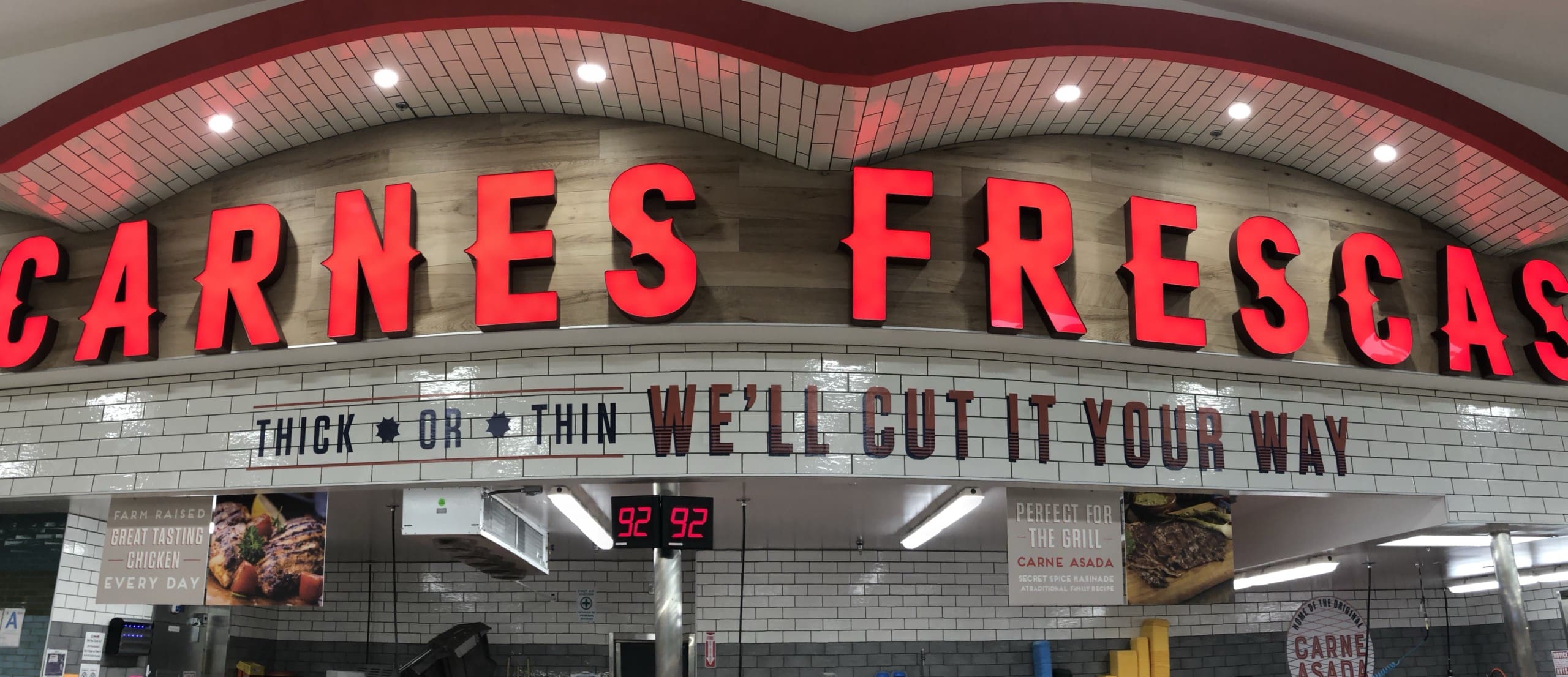 Professional butchers, personalized service and perfectly prepared meats cut to order — "Corte al gusto!"
The Vallarta Carniceria is where it all began. It's why we're known as the home of the Original Carne Asada™. We're proud of the fact that our founders were all butchers and that, even today, as new family members enter the business, they start in the meat department to ensure that legacy. For some people "carne asada" is just grilling meat, but for us "Carne Asada" means much more. It's about extended family, old friends and new ones, coming together not only to grill, but to celebrate life, share stories, build friendships and, yes, eat.
This is why we put so much effort and energy into the Vallarta Carniceria, why it's bustling with activity and stocked with the most incredible cuts of meat. many of which are hard to find. Our most famous cut of beef is "Ranchera," a thinly sliced flank steak. You can order it unseasoned or already marinated with Vallarta's secret blend of spices – a combination of flavors so delicious that it's famous. We have Diesmillo, which can be cut thin for the grill, or cut thick for birria stews or roasts. Tasajo is a cut referred to as an "Argentinian cut." It's a thick cut from the plate of the cow, and it's great on the grill or seared in cast iron on the stove.
Our highly skilled butchers use "old world" cutting techniques, and love to carve something special for customers. Of course you can find a T-Bone or Porterhouse steak in the case, but you can also have one trimmed to your personal specifications. That's why our meat department motto is: "Thick or thin, we'll cut it your way." Another speciality cut, one that will earn you "Grillmaster" status at your next Carne Asada, is the Tomahawk steak. These are premium, thick-cut ribeye steaks with the bone still attached and not easy to find at your average grocery store. But be warned: You're going to need a bigger plate
Of course, our fresh meat selection also includes chicken and pork in every variety and cut you can imagine. We have chicken marinated in our proprietary blend, and legs and thighs are some of our best sellers. Need a whole chicken for your Pozole? No problem. And for extra flavor, we've also got plenty of chicken feet, pigs feet, pigs snout, and maybe even a pig's head on display. What can we say? \We're butchers!
---
You may also be interested in